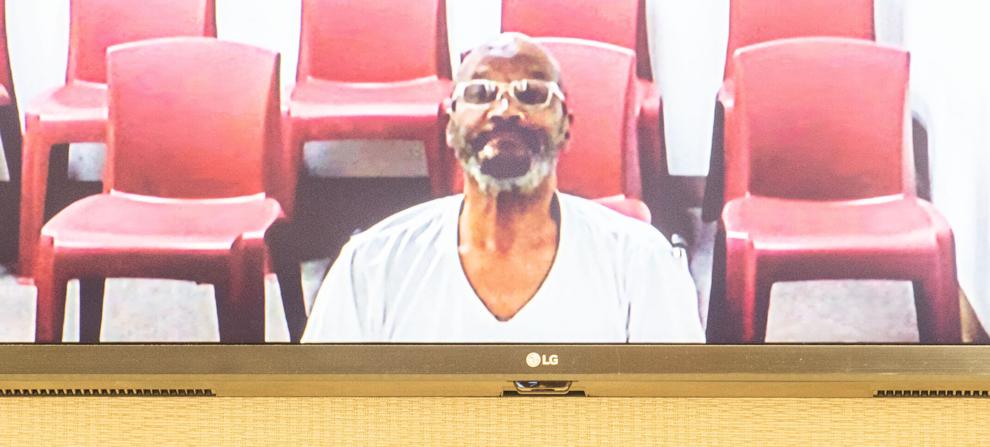 URBANA — A Champaign man who allegedly fatally shot his daughter two months ago to keep her from calling the police to report that he hit her with a hammer has been charged with first-degree murder.
Champaign police arrested Raymond C. Gwin Sr., 69, of the 400 block of East Beardsley Avenue, Monday evening after having uncovered evidence that showed he allegedly intentionally killed Latoya Gwin, 34, in his home on July 14, after having struck her with a hammer.
Gwin is being held in lieu of $1 million bond set by Judge Brett Olmstead after he heard the state's evidence against Gwin, who has no known prior convictions.
State's Attorney Julia Rietz said Champaign police had been investigating Ms. Gwin's fatal shooting since it happened early on that Thursday morning.
Police initially characterized her killing as a death investigation, as opposed to a homicide, that resulted from a domestic altercation.
In court Tuesday, Assistant State's Attorney Tim Sulliivan told Olmstead that police had been called to the home about 3:15 a.m. that same day because father and daughter, both apparently under the influence, had been arguing. Finding nothing to support the commission of a crime, officers left.
At 5:16 a.m., they were called back by Gwin, who told the 911 telecommunicator that he shot his daughter because she hit him with a hammer.
Police found her with a single gunshot wound to the neck. She was pronounced dead just before 7 a.m. the same day in the operating room at Carle Foundation Hospital.
Based on Gwin's 911 call, authorities believed he may have been acting out of self-defense.
However, Rietz said that on Monday investigators were able to access Raymond Gwin's cellphone and found hours of audio recordings from that day.
It's not clear if he purposefully or unintentionally recorded what was happening, Rietz said, but investigators could hear that Gwin allegedly hit his daughter with a hammer and that when she threatened to call the police, he shot her.
"The recording includes the defendant and the victim arguing," Sullivan said in court, "and the victim yelling at the defendant that he had hit her with a hammer and that she would report it."
Immediately thereafter, a shot can be heard as well as Gwin Sr. saying something along the lines of 'That's what I wanted,' Sullivan said.
"On the recording, there is no threat from the victim that she was going to hit the defendant with a hammer. There was no warning from the defendant not to hit him or he would shoot. The shot occurs after she says he hit her and she would report (that to police)," Sullivan told the judge.
Rietz said police had taken Gwin's phone right after the death but had been unable to access it until Monday.
After hearing the recordings, they arrested Gwin at his home and booked him into the county jail just before 9 p.m. Monday.
Olmstead told Gwin he is in the process of trying to find an attorney to represent him since the public defender's office has asked not to be given any more murder cases due to staff shortages.
Olmstead told Gwin to return to court Wednesday. The judge informed Gwin that if convicted of his daughter's murder, he faces penalties ranging from 45 years to natural life in prison.