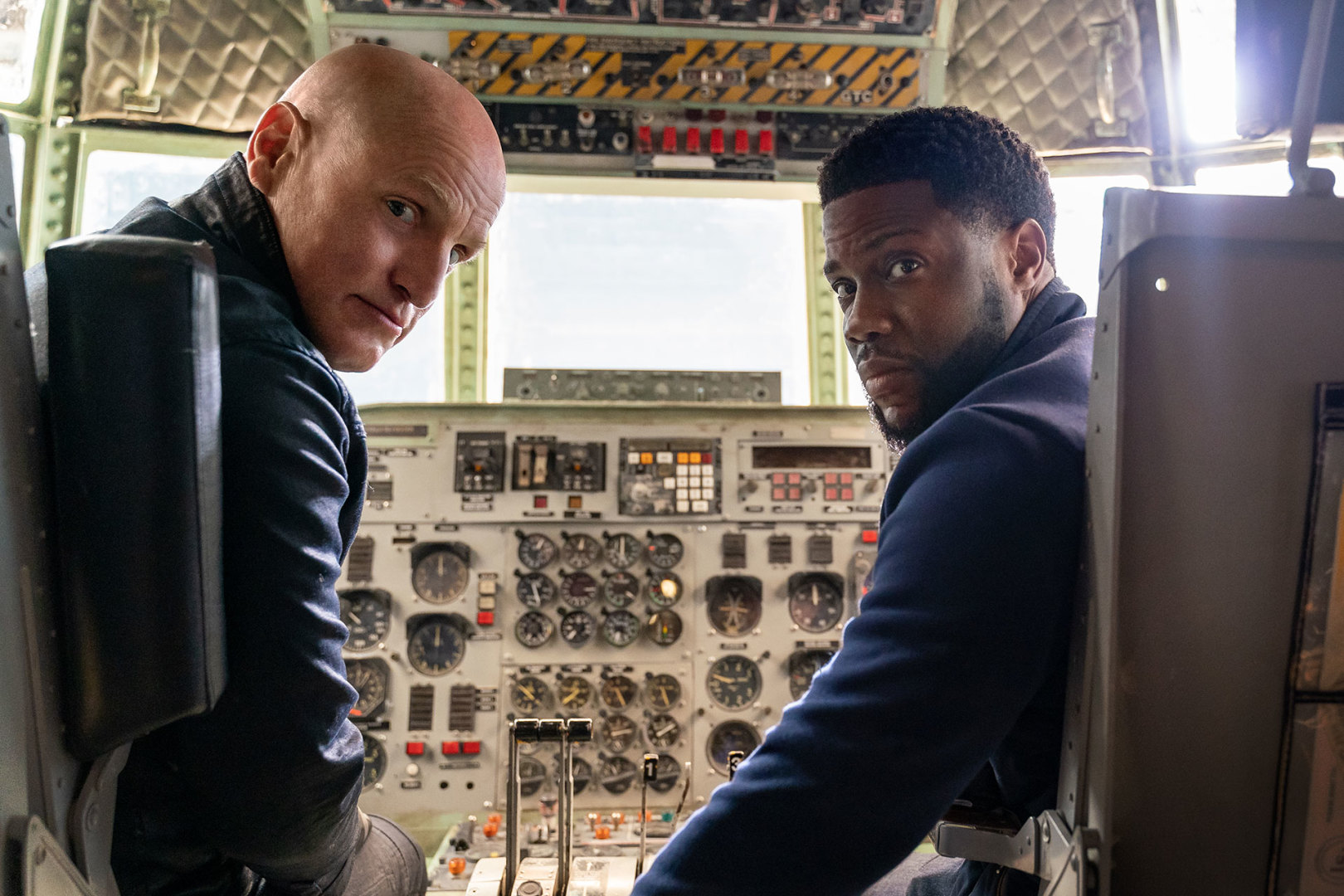 After a lengthy two years, Netflix has finally released a trailer for the highly-anticipated film The Man From Toronto—featuring absolutely nobody from Toronto. 
The new action-comedy, directed by Patrick Hughes, features a star-studded lineup: Kevin Hart, Woody Harrelson, Kaley Cuoco, and Ellen Barkin. The movie began filming in Toronto in October of 2020, after a mandatory two-week quarantine period for non-Canadian cast and crew members. 
Torontonians—who know it's "Tur-AH-nno," not "Toe-RON-toe," as everyone in the trailer pronounces it—will notice familiar sights and landmarks throughout the film, like the CBC's atrium on Front Street. Locals caught the movie being shot in various parts of the GTA, including Brampton's GO station.
Building off of the momentum of films like The Hitman's Bodyguard and The Expendables 3, director Patrick Hughes is creating a name for himself in Hollywood. 
The release of the film's official trailer has already received a lot of attention, garnering over three million views on YouTube in less than 24 hours. Viewers can finally indulge in a compilation of CGI-based physical comedy, Kevin Hart shamelessly farting, Woody Harrelson's terrorizing yet goofy persona, Hart projectile vomiting on a man, and more.
Hart plays the role of what the film description calls "a screw-up sales consultant," whose identity is mistaken for the world's deadliest assassin, "the man from Toronto," after accidentally getting booked at the same Airbnb. Talk about an inconvenience. 
In order to help the FBI catch "the man from Toronto," Hart is forced to pose as the assassin. However, Hart must keep his squeamish ways under control if he wants to successfully complete the mission. When Harrelson, who plays the real man from Toronto, receives news that the client wants them both dead, the odd couple must work together to get out alive.
"Kevin Hart's character is like a wet noodle who needs to find strength to stand up in the world because it's been walking all over him. On the flip side of that coin, the 'Man from Toronto' is someone that needs to get in touch with his emotions a little more instead of just killing everybody. Watching them learn from each other is really fun," Patrick Hughes said in an interview with EW. 
The Man From Toronto is scheduled for release via Netflix on June 24.